Achieving Inspection Ready TMF Quality: The Four Cornerstones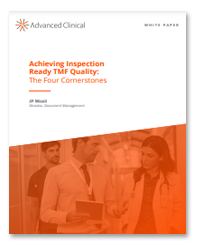 Despite the increase in eTMF utilization, Health Authority attention and sponsor awareness, TMF Quality continues to be an issue for many organizations. Issues in TMF Quality are driven by many factors, including the complexity of today's trial protocols, frequent change in outsourcing models, and the use of new eClinical systems, to name a few.

In this white paper, we will discuss how it is possible to attain TMF Quality sufficient to withstand health authority inspection by thoughtful and deliberate management of four key TMF cornerstones.