California Employers:




Keep Your Talent, Lower Your Liability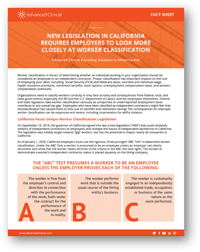 It's 2020 and new employment legislation is reshaping the use of independent contractors for many California employers.
Don't let this new legislation disrupt your talent—or your business. Advanced Clinical's payrolling solutions give you options for retaining your current IC talent.
Download our Fact Sheet and learn more about the new legislation, how it can impact your company, and what you can do to keep your talent, avoid disruption, and stay in compliance.